European Language Week 2018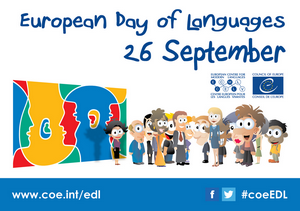 Institutions and organisations celebrate European Day of Languages every year on the 26th September and the language departments at Gimnazija Vič use this special occasion as the main point of a full week of special classes and events connected to the languages taught at our school.
Within classes, students had the chance to find out more about different sides to the languages. These covered things such as dialect and slang, amusing expressions, and aspects of literature. It allowed students to discover another side of the languages in a way that was planned out to be a bit more light-hearted than their regular classes.
Outside the classroom, one of the popular features of Language Week every year is the specially planned menu. With every day having a different national theme, students enjoyed German pretzels, sandwiches in the style of a British afternoon tea, Italian pizza, and much more besides.
The school radio station provided entertainment connected to the different countries as well. With the selection of tracks played including opera, chanson, rock, and folk, the languages could be heard in a range of ways and in very different styles.
With this week of activities taking place at the school year it acts as a good way of letting students know about what goes on within the school's language departments and we hope they will enjoy the other events planned for the year ahead as well.