Art competition – "Travelling and Existing in Space"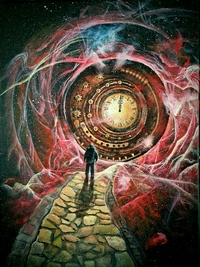 We would like to congratulate Ana Jankovec, one of our second-year students, for her outstanding achievement in being awarded first place in a recent art competition.
The title of the competition was "Potovanje in bivanje v vesolju" ("Travelling and Existing in Space") and it was designed to mark the 130th anniversary of the birth of Herman Potočnik Noordung, a famous engineer and astronautics scientist.
Ana's piece was selected as the winner from over 1000 pieces of art put forward for consideration.
She talked about her inspiration being the bending of space and time around us.
Congratulations once again and we look forward to seeing much more of her exceptional work.