Christmas and New Year concert 2022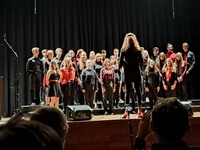 On Tuesday, 13th December, a holiday-themed concert was held at Gimnazija Vič.
The main event was based around performances by the school choir, led by the school's music teacher, Dr Marija Mihevc. In addition, two pieces were performed by the school orchestra, led by one of the school's former students, Mr Jakob Barbo. The orchestra played the famous Radetzky March as well as Jingle Bells, which was interlaced with the lovely voices of the choir.
All the pieces and songs performed at the concert were traditional Christmas and New Year melodies with roots in various countries across the globe. They were accompanied by piano for the most part while two violins joined the ensemble for one of the songs.
The concert ended with the choir wishing the audience all the best for the upcoming holidays and a thunderous round of applause from the audience.
Zoja Jesih